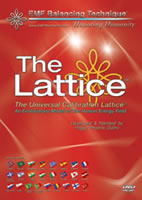 Cette animation de l'UCL fait partie d'un DVD appelé The Lattice!™ (Le Treillis!). Le DVD complet contient deux animations supplémentaires - Les Filaments de Lumière et d'Energie et Les Schémas Sacrés des Phases I-VIII - ainsi q'une démonstration en direct « Session d'Introduction à l'Energie de l'EMF » pour une expérience personnelle, toutes décrites par Peggy Phoenix Dubro.
Merci de noter que :
1. Pour voir cette vidéo, vous avez besoin d'avoir Adobe Flash Player installé.
Télécharger gratuitement Adobe Flash Player
2. La vidéo peut avoir besoin de se charger complètement la première fois pour pouvoir la regarder sans « arrêt » pendant la diffusion.
3. Sur une faible vitesse/connexion Internet, la vidéo peut prendre quelques minutes pour se télécharger et commencer à se diffuser.
Durée : 02:49 mins
Sous-titres : English, العربية, български, Deutsch, Eesti keel, Ελληνικά, Español, Français, Français Canadien, עִבְרִית, Hindi, Íslenska, Italiano, 日本語, Latviešu valoda, Magyar, Nederlands, Polski, Português (Brasil), Português (Portugal), Română, Русский, Slovak, Suomeksi, Türkçe
Fondatrice de l'Universal Calibration Lattice : Peggy Phoenix Dubro
Concept d'Animation : Gabriel Demaio & Adriana Nievas
Compagnie d'Animation : Borrello & Asociados Srl. Cine y Video
Construction de l'Animation & Technique Electronique 3D : Andreas Binkert
Musique : Les Canons de Johann Pachelbel en Ré Majeur - créé et produit par UniqueTracks
Légendes & Sous-titrages : VanKirk Media
Format Vidéo pour le Web - Programme & Diffusion : Slingblade Digital
Une magnifique animation 3D de l'Universal Calibration Lattice (UCL).
L'UCL est un système à l'intérieur de l'anatomie énergétique humaine, irradiant du cœur même de notre être - une configuration géométrique et harmonique unique de lumière et de son.
L'UCL est le système de circuits électriques qui sert de fondation pour le prochain niveau de notre évolution personnelle. Ce système de notre anatomie énergétique est une extension de notre système nerveux sympathique et parasympathique, qui nous aide dans le développement de nos capacités pour nous exprimer complètement. N'importe qui sur le chemin du développement personnel conscient bénéficiera d'avoir une plus grande connaissance de son UCL, parce qu'il affecte tout ce que nous faisons.
L'avantage premier d'une session de l'EMF Balancing Technique est le renforcement de l'UCL - un système complexe avec un but simple - porter la plus grande charge électrique qui est maintenant disponible pour tous les êtres humains.
Universal Calibration Lattice® - Animation 3D
Produit par Eduardo Borrello pour The Energy Extension, Inc. © Tous droits réservés.