La Voie de l'Évolutionnaire – CD
La Phase

XIII

de l'

EMF

Balancing Technique®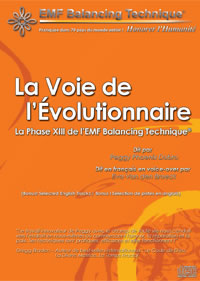 Dit par Peggy Phoenix Dubro
Dit en français en voice-over par Eva Van den Broeck
Nous vivons une époque de grands changements, personnellement et collectivement. Cette période de transformation nous présente une occasion en or d'évoluer au-delà de nos limites actuelles.
Si nous continuons à faire les choses que nous avons toujours faites, nous continuerons à créer les mêmes résultats. Choisissez-vous d'embrasser votre processus évolutionnaire ou choisissez-vous de rester le même?
Il y a un endroit, un système réel au sein de votre conscience, où la logique et le potentiel infini fusionnent pour créer une réalité plus grande, emplie de possibilités accessibles. La session de la Phase XIII est une vaste combinaison de l'ensemble des douze phases de l'EMF Balancing Technique®.
Cette session est l'Alpha et l'Omega, le début et la fin de ce travail évolutionnaire considérable pratiqué dans le monde entier. Vos pensées, vos paroles, vos actions, vos émotions créent des charges énergétiques qui déterminent les caractéristiques de votre vie. Dans la sagesse et la joie, prenez en charge votre réalité ... et vous vous retrouverez souriant encore plus !
Avec ce CD, vous pouvez faire l'expérience de la phase XIII, n'importe où et en tout temps!
Durée : 41 minutes
Piste 1 – Introduction (3:29)
Piste 2 – Point de focalisation n°1 – Honorer (0:35)
Piste 3 – Point de focalisation n°2 – Amplifier la Conscience de l'énergie (3:25)
Piste 4 – Point de focalisation n°3 – Dégagement (2:57)
Piste 5 – Point de focalisation n°4 – Harmonisation (3:31)
Piste 6 – Point de focalisation n°5 – Histoire (3:49)
Piste 7 – Point de focalisation n°6 – Potentiel (2:36)
Piste 8 – Point de focalisation n°7 – Maîtrise (4:05)
Piste 9 – Point de focalisation n°8 – Humain universel (3:47)
Piste 10 – Point de focalisation n°9 – Parent(s) universel(s) (3:09)
Piste 11 – Point de focalisation n°10 – Partenaire ou Bien-aimé(e) universel(le) (2:57)
Piste 12 – Point de focalisation n°11 – Évolutionnaire en émergence (3:23)
Piste 13 – Point de focalisation n°12 – Anneaux d'énergie (1:39)
Piste 14 – Point de focalisation n°13 – Prenez-vous en charge (2:21)
Bonus ! Sélection de pistes en anglais :
Track 15 – Point of Focus 1 – The Honoring (00:35)
Track 16 – Point of Focus 2 – Amplifying Energetic Awareness (03:25)
Track 17 – Point of Focus 8 – Universal Human (03:47)
Track 18 – Point of Focus 12 – Rings of Energy (01:39)
Track 19 – Point of Focus 13 – Take Charge (02:17)
Ecouter un extrait :


Acheter le fichier MP3 à télécharger sur le magasin du Symbole international
Peggy Phoenix Dubro est une conférencière internationale et enseignante réputée et ses multiples talents lui ont valu une présence mondiale dans le domaine de la "pensée nouvelle". Sur une période de 22 ans, elle a développé l'EMF Balancing Technique®, une forme de travail énergétique élégante et sophistiquée qui est maintenant pratiquée dans plus de 70 pays. Les bienfaits documentés du travail avec les sessions EMF incluent paix profonde, réduction du stress, clarté mentale, vitalité accrue, rajeunissement, régénération physique, plus de maîtrise de sa vie, amélioration des relations et bien-être général.
Peggy a aussi découvert l'Universal Calibration Lattice®, un système d'énergie électromagnétiquement organisé s'étendant au-delà du corps physique de chaque être humain et qui est son lien personnel avec la source d'énergie universelle. En partenariat avec son mari Stephen, elle a cofondé The Energy Extension, Inc., une organisation internationale dédiée à la gestion consciente de l'énergie personnelle. Ils ont aussi développé une série de formations LatticeLogic® (Logique du Lattice) pour les enfants en âge scolaire et pour des sociétés ouvertes et progressistes. Ces nouveaux programmes basés sur le raisonnement quantique/circulaire combiné avec le pouvoir de l'intention focalisée sont présentés dans des écoles et différentes entreprises de par le monde !
Pour toutes commandes, contacter le bureau EEI en Allemagne:

Tél. : +49 (0) 9547 92 15 91
Fax : +49 (0) 9547 92 10 61
E-mail : office@emfbalance.de
www.emfbalance.de
Prix : 11.00 Euro plus les Frais d'Emballage et de Livraison