LatticeLogic® for Families – Personal Growth Training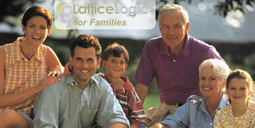 Teachers: Peggy Phoenix Dubro & LatticeLogic® for Families – Facilitators
Duration: 2 days
Prerequisite: None – open to the public
Family members, love partners included, constitute the most profound human ties we experience during our lives. Only very close friendships can match the richness and emotional intensity of family ties, and those friendships we tend to consider "family" as well.
Regardless of how frequent or how scarce our interaction with any of our "family" members is, the dynamics dwell within us and accompany us throughout our lives. Family energies are intense, they move and inspire us when in positive expression.
The way we relate to them may vary from a deep sense of support, caring and complement, to a sense of carrying major burdens. These patterns in turn underlie a significant portion of the strengths and challenges we see expressions of in our daily lives.
Many of our family patterns are unconscious, so addressing them on an energetic level becomes quite an effective approach. LatticeLogic® for Families empowers individuals to generate higher balance and harmony on an energetic level.
Calibrating family energies is a very important factor in addressing emotional, mental and even physical distress, and becomes paramount when coming into deeper harmony with life and being able to express much more of our potential.
The LatticeLogic® for Families program unfolds using agile methodologies within an environment of honoring and respect, without the need for catharsis. Participants are guided into a journey in which they are able to:
Discover: participants are often amazed and deeply touched when hidden connections and patterns within their family systems are revealed.
Integrate: energetic family maps are understood and assimilated by participants into a peaceful integration of their history, enabling them to identify pattern expressions.
Choose: integrating allows for greater clarity, perspective and freedom, which in turn enable a much higher capacity to choose which family traits to activate and strengthen energetically. Participants learn to become conscious co-creators with their energies of family.
The training is designed for individuals, couples and families interested in understanding and addressing life issues at a deep level and looking to establish solid foundations for new developments in their lives.
"As your family energies go, so they project into your relationships and into humanity at large. Peace with your family energies leads to peace in your relationships and peace in humanity."

Peggy Phoenix Dubro
Peggy Phoenix Dubro is a distinguished international speaker, author and teacher whose diverse talents have gained her a worldwide presence in the arena of "new thinking". For over 22 years, Peggy has developed the EMF Balancing Technique®, an elegant and sophisticated modality of energy work, which is now practiced and taught in more than 70 countries around the world. It was also Peggy who discovered the Universal Calibration Lattice®, an electromagnetically-organized system of energy, which extends beyond the physical body and is our personal connection with the source of universal energy.
In partnership with her husband Stephen, Peggy is the Co-founder of The Energy Extension, Inc., an organization devoted to conscious personal energy management. The LatticeLogic® Program Series has been developed for individuals and organizations interested in state-of-the-art thinking. These innovative programs, presented all over the world, are based on quantum/circular reasoning combined with the power of focused intent.
LatticeLogic® for Families – Facilitator Training
LatticeLogic® for Families – Facilitators Listing
View Detailed Schedule »