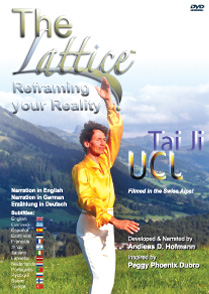 Please Note:
1. To view this video you need Adobe Flash Player installed and enabled on your browser.
Download Adobe Flash Player for free
2. Video may need to fully load the first time in order to view it without 'stops' during streaming.
3. On a low speed/dial-up connection, the video may take up to a few minutes to download and start playing.
Developed & Narrated by
Andieas D. Hofmann
Inspired by
Peggy Phoenix Dubro
Narration in English / Narration in German
Subtitles: English, Deutsch, Eesti keel, Ελληνικά, Español, Français, עִבְרִית, íslenska, Italiano, Latviešu valoda, Magyar, Nederlands, Português, Русский, Suomeksi, Türkçe
If you love Tai Ji (Tai Chi),
or you would like to learn Tai Ji ...
If you are an evolving human,
or if you are an energy worker of any modality ...
or if you just want to know more,
you will enjoy working with, playing with,
understanding and strengthening your
UCL, an important system in the human energy anatomy.
With UCL Tai Ji, you will strengthen your personal energy field and also your personal connection to the universal energy or cosmic lattice. As you balance, harmonize and calibrate your energies, you may also consciously place your intentions and desires into the universal field.
UCL Tai Ji brings a new dimension into the practice of Tai Ji:
All of these Tai Ji and Qi Gong-gestures have a deep and universally understandable meaning. The movements are performed directly within the human energy-field. The gestures emphasize the opening of the heart and the mind. UCL Tai Ji was developed by Andieas Danata in conjunction with Peggy Phoenix Dubro.
Andieas Danata's passion is to bring the ancient moving-art and Taoist philosophy of Tai Ji into the evolving New Energy and Consciousness of our time. Born in Germany in 1954, he has taught Heart & Spirit-Tai Ji and Qi Gong for 27 years. He started Tai Ji with the authentic Yang-Style and then moved to Living Tao-Tai Ji. He has also done many Tai Ji-dance-performances, including a role in the show "Dream-journey for the Soul". He also gives private sessions and EMF Balancing Technique® sessions. Andieas has studied sociology and psychology, writing two diploma theses about Tai Ji. He has three grown children, and currently lives in Switzerland. www.taijihearts.com
Peggy Phoenix Dubro is the originator of the EMF Balancing Technique®. Along with her husband Stephen, she is co-founder of the Energy Extension, Inc., an international organization with representatives in more than 70 countries. Since her discovery of the Universal Calibration Lattice® (UCL) in 1988, Peggy has methodically developed a unique understanding of this system in the human energy anatomy, making her the worlds foremost authority regarding the Lattice.
Filmed in the K.Crocoll studio in Freiburg/Germany and on location in Interlaken-Beatenberg in the Swiss Alps.
DVD Chapters:
Introduction
1) Peggy Phoenix Dubro
Introduction
1) Intro to UCL Tai Ji
2) Welcome
3) UCL - Explanation
4) Tai Ji - Explanation
Warm-Up
1) Stretching the Body
2) Spinal Breathing
3) Loosening - Letting Go
4) Contact to the Ground
5) Grounding
6) Constant Breathing
7) Tai Ji - Circles and Figure-8 Movements
8) Opening your Heart
Energetic Preparation
1) Energetic Body Preparation
2) Intro to Calibrating the Fibers
3) Calibrating the Fibers
Infinity Loops with Intents
1) Intro to Infinity Loops - Explanation
2) Hand Positions 1
3) Hand Positions 2
4) Infinity Loops with Intents
The Energy of Love
1) Intro to the Energy of Love
2) The Energy of Love
DVD Run Time: 60 mins
For Orders Contact:
To Order Online – USA & Canada: The Symbol Worldwide Store
To Order by Phone – UK & Ireland – Tel: +44 (0)20 8349 1544 (UK) Email: LifeforceEMF@aol.com EMF UK & Ireland Shop
To Order by Phone – Australia – Tel: +61 07 4068 5352, Email: coreconnections@bigpond.com
To Order by Phone – New Zealand – Tel: +64 09 420 8908 Email: jannette@energyfields.co.nz
UCL® Tai Ji Workshops: View Detailed Schedule