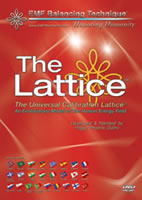 This UCL animation is part of a DVD called The Lattice!™. The complete DVD contains two more animations - Fibers of Light and Energy and Sacred Templates Phases I-VIII - plus a live demonstration of the EMF Intro Energy Session for personal experience, all narrated by Peggy Phoenix Dubro.
Please Note:
1. To view this video you need Adobe Flash Player installed and enabled on your browser.
Download Adobe Flash Player for free
2. Video may need to fully load the first time in order to view it without 'stops' during streaming.
3. On a low speed/dial-up connection, the video may take up to a few minutes to download and start playing.
Duration: 02:49 mins
Subtitles: English, العربية, български, Deutsch, Eesti keel, Ελληνικά, Español, Français, Français Canadien, עִבְרִית, Hindi, Íslenska, Italiano, 日本語, Latviešu valoda, Magyar, Nederlands, Polski, Português (Brasil), Português (Portugal), Română, Русский, Slovak, Suomeksi, Türkçe
Discoverer of the Universal Calibration Lattice: Peggy Phoenix Dubro
Animation concept: Gabriel Demaio & Adriana Nievas
Animation company: Borrello & Asociados Srl. Cine y Video
3D Electronic Art & Design Animation: Andreas Binkert
Music: Johann Pachelbel Canon in D Major - created and produced by UniqueTracks
Closed Captioning & Subtitling: VanKirk Media
Web Video Format - Encoding & Streaming: Slingblade Digital
A beautiful 3D animation of the Universal Calibration Lattice (UCL).
The UCL is a system within the human energy anatomy, radiating from the very core of our being - a unique geometric and harmonic configuration of light and sound.
The UCL is the circuitry for the electrical charge that serves as the foundation for the next level of our personal evolution. This system in our energy anatomy is an extension of our sympathetic and parasympathetic nervous system, which assist us in the development of our abilities to fully express ourselves. Anyone on the path of conscious personal growth will benefit from having greater knowledge of his or her UCL, as it affects everything we do.
The primary benefit of an EMF Balancing Technique session is the strengthening of the UCL - a complex system with a simple purpose - to carry the greater electrical charge that is now available to all human beings.
Universal Calibration Lattice® - 3D Animation
Produced by Eduardo Borrello for The Energy Extension, Inc. © All rights reserved.